Description
1) LCD Display, 128 x 64 pixel display with contrast adjustment, Backlit
2) Enter key selects displayed
3) Exit key go back to the previous screens
4) Up/down arrows-moves the selection pointer and scrolls up or down.
5) LEFT/RIGHT arrows-Select responses and moves cursor.
6) OBD2 connector cable, connect car and the scan tool
7) Battery compartment
**Product Specifications
1) Display-Backlit LCD,128*64 pixel display.
2) Operating Temperature- 0 to 50
3) Internal Power- 9v Cell
4) External Power: 10.0 to 15.5 vols provided via vehicle battery
5) Dimensions: 195mm x 81mm x 32mm
OBDII connector: 1500mm
**1.3 Product Features
1) Works on all 1996 and newer cars & light trucks that are OBD II compliant (including the VPW, PWM, ISO, KWP 2000.
2) Reads and clears generic and manufacturer specific Diagnostic Trouble Codes (DTCs)
3) Trouble codes display on the LCD, needn't the code book.
4) Scanning live data
5) Reading Freeze Frame Data
6) Testing I/M Reading Status
7) Reading vehicle info
8) Rescanning Data
**VEHICLE COVERAGE:
1) GM '96 – Current Year (OBD-II)
2) Ford '96 – Current Year (OBD-II)
3) Chrysler '96 – Current Year (OBD-II)
4) Toyota '96 – Current Year (OBD-II)
5) Honda '96 – Current Year (OBD-II)
6) NISSAN '96 – Current Year (OBD-II)
7) All other Asian and European '96 – Current Year (OBD-II)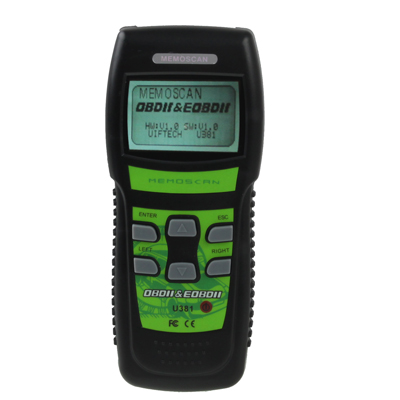 $57.42