What vehicles are supported?
Our scan tools work on all 1996 and newer cars and light trucks sold in the United States, including:
Some 1994 and 1995 models are also supported. To see if your vehicle is compliant, pop the hood and look for this sticker: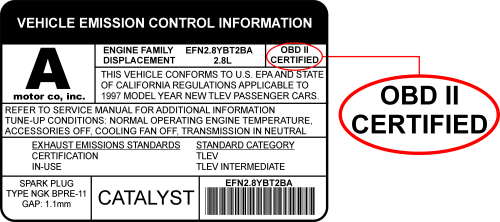 Model year 1996 and newer vehicles are compliant by default, and will not have this sticker.
A few words about OBD compatibility
Most cars on the road today, have an OBD-II system and are therefore compatible with our scan tools. Many of our competitors claim that their products "work on all 1996 and newer vehicles." This statement is not entirely accurate, because it only applies to cars and light trucks sold in the United States.
As a global company with a large international customer base, we say that our scan tools work with OBD-II and its international equivalents: EOBD in Europe, JOBD in Japan, as well as Canadian, Australian, Brazilian, and others. In general, non-US OBD legislation lags by a few years, and is more complicated than US legislation. We put together an article to help you sort it out: Is my vehicle OBD-II compliant?
What is a "scan tool"?
A scan tool is a device used to access on-board diagnostic information. Scan tools come in many shapes and sizes, but there are two basic types: stand alone and PC/Mobile device based. As the name suggests, stand alone scan tools do not require a computer. However, they typically have a small screen with a minimalistic interface, run only proprietary software with limited functionality, and cost significantly more than comparable PC-based scan tools.
PC-based scan tools harness the power and economy of scale of modern PCs, and have a number of important advantages:
Large, easy-to-read screen
Unlimited storage for data logging
Wide selection of diagnostic software that can be easily updated
Remote data acquisition
Cost a small fraction of the cost of comparable stand-alone scan tools
Our PC based scan tools can:
Turn off the check engine light, and erase stored diagnostic information
Check emissions readiness
Read and erase trouble codes (generic and manufacturer-specific)
Display real time parameters
Record data for later playback
Plot data in the form of graphs & maps
Display customizable Digital Gauges
Serve as a dynamometer
Provide a drag strip feature
Generate printable diagnostic reports
Access manufacturer-specific information
Do lots of other cool and useful things
None of the stand alone scan tools available on the market today (even the ones that cost thousands of dollars) can even approach this feature set.
It's all about the software
Without software, a PC is just a box with lights. The same can be said about a scan tool: it is only as good as the diagnostic software that works with it. Therefore, we are proud to be able to say that if you get one of our scan tools, you will enjoy the widest selection of the best diagnostic software.
From the very beginning, we made it our priority to make it easy for programmers to write software for our devices by providing documentation, source code, technical support, and OBD simulators. We work closely with many software developers across the globe, share ideas, and use their feedback to improve our scan tools.